Ossuary Church of St. Stephen
Ossuary and Church of St. Stephen
Mysterious is the nameless woman who died in the 17th century and came to light again as a mummy in 1982.
---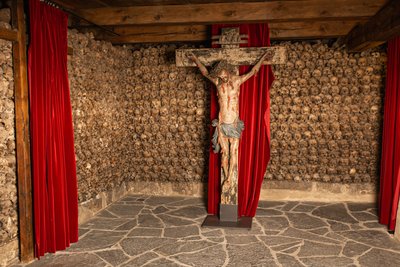 History
Visitors enter a dark room with an old wooden ceiling that seems low in contrast to the church. A wall more than two meters high with artfully piled bones await the bodily resurrection here.
After the abolition of the old cemetery, they found their final resting place in this chapel. Even today, the ossuary serves as a burial place. The wall measures 24 meters and about 22,000 skulls are piled up.
Guided tour of Leuk town between July and the end of October every Tuesday at 2:30 p.m.
---
opening hours
All year round
Monday - sunday 10.00 a.m. to 5.00 p.m.
---
Virtual tour of Leuk
Stroll through the alleys of Leuk and let yourself be taken back to the Middle Ages. Everywhere you will discover traces of history.
With the technology of "Augmented Reality" you can discover Leuk-Stadt with personalities from the past.
---